2019 Four Freedoms Gala
Stonewall recently celebrated our 16th Annual Four Freedoms Awards Dinner on May 15, 2019 at the Tsakolpolous Galleria in downtown Sacramento!
We gave awards to four amazing LGBTQ community members and commemorated the 50th anniversary of the Stonewall riots. The Four Freedoms Gala is Sacramento Stonewall's largest fundraiser of the year.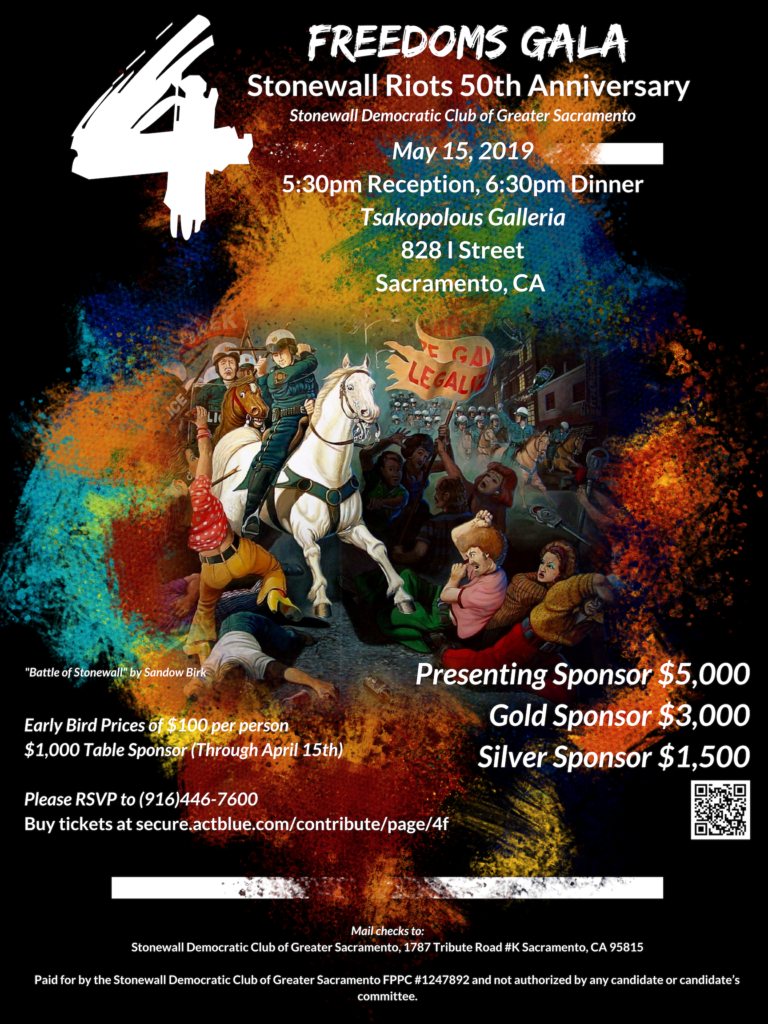 History of "Four Freedoms"
Every year, the Sacramento Stonewall Democratic Club holds a gala where we recognize local leaders who embody the goals of the club and of the Democratic Party – freedom from fear and want, freedom of expression, and freedom of worship. The idea comes from Franklin Roosevelt's Annual Address to Congress in 1941. For more information on President's Roosevelt's speech, please follow this link! 
Freedom From Fear
2019     Ebony Ava Harper
2018    Senator Cathleen Galgiani
2017     Evan Minton
2016     David Heitstuman
2015      Assemblymember Susan Eggman
2014      Ben Hudson
2013       Dr. Claire Pomeroy, Vice-Chancellor and Dean, UC Davis Health System
2012       Assemblymember Roger Dickinson
2011       Pam Whitely
2010       Dr Jennifer Choy, DO
2009       Tina Reynolds of Equality Action Now
2008       The Satender Justice Coalition
2007       Mayor Heather Fargo
2006       Yvonne Neis
2005       The Honorable Gary Miller
2004       The Court of the Great Northwest Imperial Empire (CGNIE)
Freedom of Speech and Expression
2019     Assemblymember Evan Low
2018      Genevieve Shiroma
2017      Bonnie Osborn
2016      Michael Mendez
2015      Assemblymember Tom Ammiano
2014       Larry Levine
2013       West Sacramento Mayor Christopher Cabaldon
2012       Senate Majority Leader Ellen Corbett
2011       Sacramento Valley Veterans
2010       Fred Palmer, Publisher Outword
2009       City Council Member Ray Tretheway
2008       Alice Huffman, NAACP
2007       Jay Hansen
2006       Honorable Willie Brown
2005       Marghe Covino
2004       Gail Lang
Freedom of Worship
2019      Jeff Freitas
2018     Eric Bauman
2017      Basim Elkarra
2016      Trinity Episcopal Cathedral
2015      Lutheran Church of Our Redeemer
2014       Mary Helen Doherty
2013       Rev. Faith Whitmore, District Director for Congressman Ami Bera
2012       The Sisters of Perpetual Indulgence
2011       Rabbi Mona Alfi, Congregation B'Nai Israel
2010       David Schenirer, McClatchy High School Student & Member Congregation B'Nai Israel
2009       Rev. Dr Brian Baker, Trinity Cathedral
2008       Rev. Lindi Ramsden, Unitarian Universalist Society
2007       Rev. Robyn Hartwig, Lutheran Church of Our Redeemer
2006       Rev. Dr. David Thompson, Westminster Presbyterian Church
2005       Rev. Charles Cooper, Metropolitan Community Church
2004       Rev. Don Fado, St Mark's United Methodist Church
Freedom from Want
2019     Mandy Lee
2018     Carrie Holmes
2017     Rachel Iskow
2016      SEIU local 1000 Lavender Committee
2015      Senate pro Tem Emeritus Darrell Steinberg
2014       Rosanna Herber
2013       Sacramento County Supervisor Phil Serna
2012       Sacramento Municipal Utility District (SMUD)
2011       Assemblymember Richard Pan, MD
2010       Betty Yee, Chair, State Board of Equalization
2009       Mike Whiteside
2008       Ralph Seibert, student youth counselor
2007       State Controller John Chiang
2006       County Supervisor Illa Collin
2005       Paul Curtis
2004       Ellen Pontac and Shelly Bailes
President's Award
2019     (no award)
2018     Colonel Pat Thompson
2017      Honorable Carole Migden
2016      Speaker Emeritus of the Assembly Toni Atkins
2015       Denny Mangers
2014       Senator Mark Leno
2013       Sacramento City  Councilmember Steve Hansen
2012*      Dr. Darrick Lawson (Founder's Award)
2012       Ft. Worth, TX City Councilmember Joel Burns
2011       (no special award)
2010       Speaker John Perez
2009       Attorney General Jerry Brown
2008       Laurie McBride
2007       (no award)
2006       (no award)
2005       Chrissy Gephardt (Grand Freedom Award)
2004       Judy Shepherd (Grand Freedom Award)