Join us for the Sacramento Stonewall Democrats October meeting on Monday October 12th!
Who: Sacramento Stonewall Members and prospective members
What: October Monthly Meeting
Where: Red Lion Woodlake Hotel, 500 Leisure Lane, Sacramento
When: Monday October, 2015 at 6:30pm with Social Hour immediately after the meeting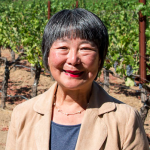 Guest Speaker – Former Assemblymember and candidate for State Senate Mariko Yamada will be joining us for a discussion and to answer questions!
Social Hour – Join us after the meeting at the Red Lion Lakeside Bar and Grille just outside the meeting room for Social Hour!
About Sacramento Stonewall:
The mission of the Stonewall Democratic Club of Greater Sacramento is to advance equal rights for all people, regardless of sexual orientation or gender identity. We will support public policies that advance that mission in the United States, the State of California, and the greater Sacramento area.
We help elect to public office qualified Democratic Party candidates who are openly lesbian, gay, bisexual, and transgender, as well as allies who support equal rights for the LGBT community.