Announcements
Vote for Stonewall Candidates!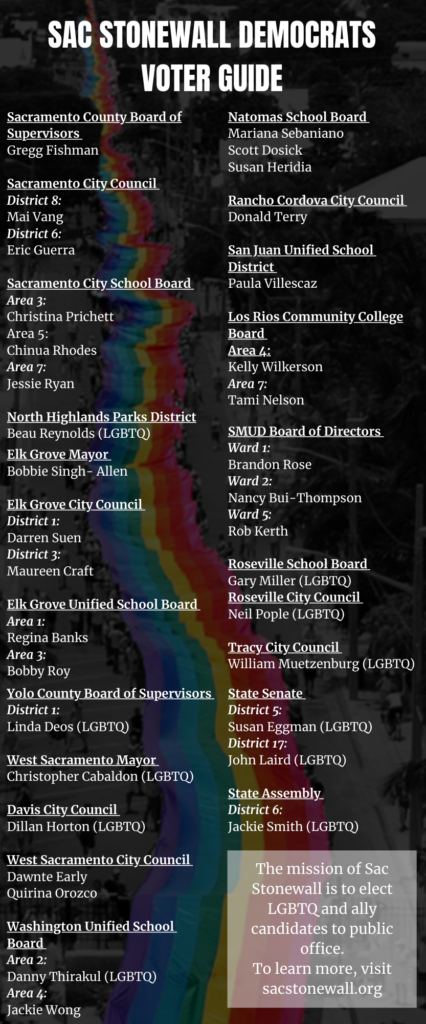 Temporary Club Rules – COVID-19
During the May 11, 2020 General Membership meeting, conducted remotely over Zoom, the Stonewall members approved temporary club rules that allow us to continue making endorsements during the COVID-19 pandemic. A copy of the rules can be found here: https://www.dropbox.com/s/zlawzszdtu5sfr2/Covid-19%20Temporary%20Rules.docx?dl=0
Monthly Meetings
General Membership Meeting
Date: Every 2nd Monday of the month!
Location: Until it is safe to gather in person our meetings will be conducted virtually via Zoom. The link will be accessible on our Facebook page. Once it is safe, our meetings will resume at the Sierra 2 Center, 2791 24th Street, Sacramento, CA 95818
Meeting Time: 6:30 pm
Board Meeting

Date: Every 1st Monday of the Month!
Location: Via Zoom. For Zoom meeting information, please email Kim Angulo at president@sacstonewall.org
Time: 6:30 pm
Our Charitable Arm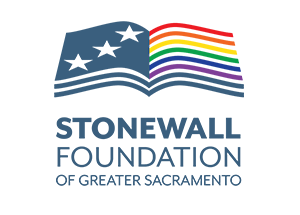 Contact Us
Questions? Email our Communications Chair.
Sign Up for emails, Like Us on Facebook, and Follow Us on Twitter to learn about alerts, events, and how to get involved.
Stonewall Democrats of Greater Sacramento
P.O.Box 161623
Sacramento, CA 95816