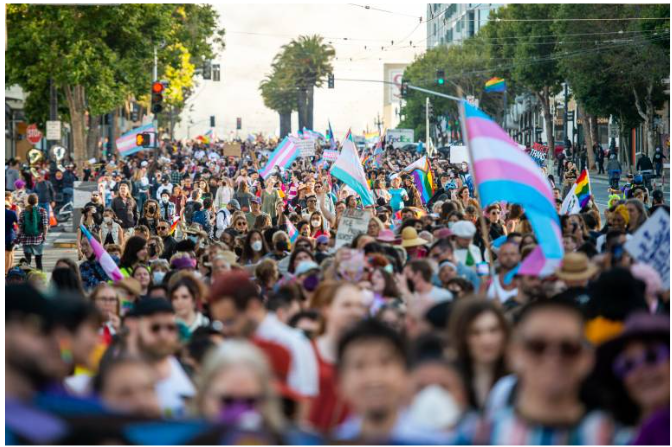 Our October-November 2022 Press Coverage
Stonewall Dems Puts Pressure on the Far-Right Candidates in the Natomas USD campaign, Megan Allen and Monique Hokman.
Be Sure to Support Our Candidates: Noel Mora and Cindy Quiralte
________________________
* Link to Sac Bee story on Noel Mora and Cindy Quiralte, with the backing of the teachers' union, are enjoying large leading margins as the votes are counted.
https://www.sacbee.com/news/local/article268795292.html
_________________________
* Link to Sac Bee Story on Megan Allen, and Monique Hokman, Natomas USD, and Their Homophobic/ Transphobic Views, Nov 5, 2022
https://www.sacbee.com/opinion/article268308502.html
__________________________
* Link to Sac Bee story on Megan Allen, Natomas USD, and her Homophobic/ Transphobic Views, Nov 2, 2022
https://www.sacbee.com/news/local/article268101937.html
_________________________
* Link to Sac Bee story on Monique Hokman, Natomas USD, and her Anti-Vaxx / Homophobic Views,  Oct. 28, 2022 (includes video record of her public testimony before the Natomas USD Board)
https://www.sacbee.com/news/local/article267226747.html
_________________________
* Link to Bay Area Reporter story on statewide rise of Homophobia /Transphobia in School Board Races, Oct. 26, 2022
https://www.ebar.com/story.php?ch=news&sc=news&id=320082
_________________________
* Link to SactoPolitico Guest Essay, on Megan Allen's Transphobic Language, Oct. 21, 2022
https://www.sactopolitico.com/post/stonewall-dems-transgender-bathroom-essay
________________________
See our original press release below … With thanks to all our members and supporters, especially Lisa Kaplan, Evan Minton, Tiffany Woods, Tracie Stafford, Zima Creason, Anna Molander Hermann, and Mario Guerrero, for bringing this press adventure to publication !
(photo above: We March For Transgender Rights)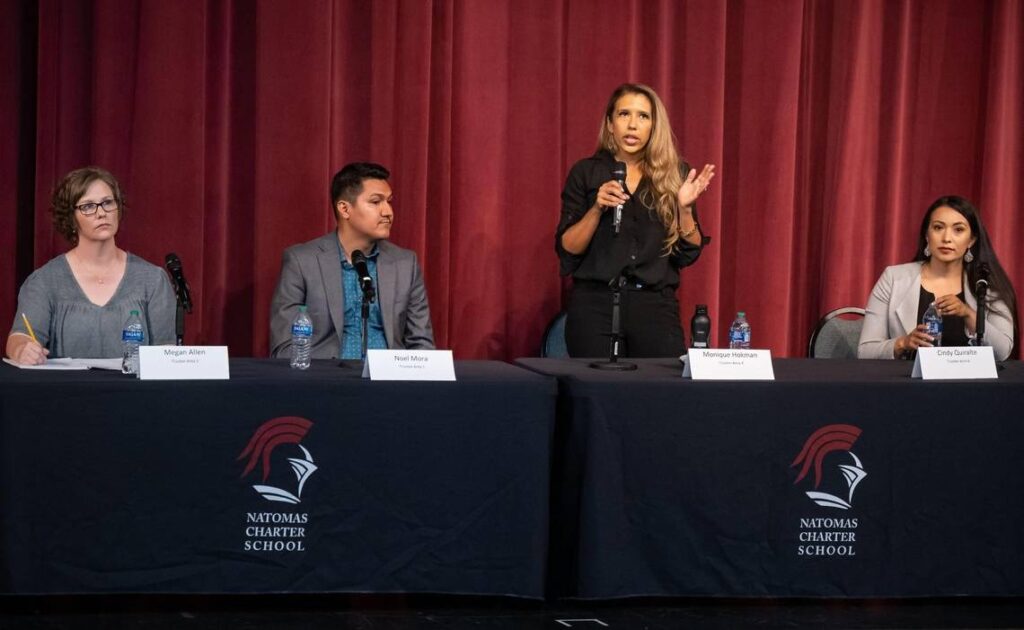 Press Release
For Immediate Release
Monday, October 24, 2022
CONTACT:
Annamarie Smith
Communications Director
Stonewall Democrats of Greater Sacramento
Mario Guerrero
President
Stonewall Democrats of Greater Sacramento
LGBT Democrats Denounce Megan Allen, Natomas School Board Candidate, for Using Transphobic Myth at Public Forum, Oct. 12, 2022.
Allen Replies to Us in SactoPolitico: She Does Not Deny She Made Remarks, Oct. 21, 2022.
Sacramento, CA – On Oct.12, 2022, Megan Allen, candidate for Natomas Unified School District, Trustee Area 1, gave her opinion on gender-neutral restrooms on school campuses, at a public candidates' forum.  
Allen said:  
"I am fine with one gender neutral restroom on campus, but I do not want them across campus, because there are lots of reports that's how girls get raped."
Tracy Chatters, educator, who was present at the candidate forum, confirms that Allen made this statement on Oct. 12.
Ms. Chatters also commented,
"Allen's statement makes me concerned about what other deeply held beliefs she upholds and that she has not yet disclosed."
Two other candidates for school board positions, Zima Creason (San Juan USD) and Anna Molander (Sacramento City School Board), have published sharp critiques of Allen's statement which they have published on their respective campaign Facebook pages.
Allen's opponent in Natomas USD, Trustee Area 1, is Noel Mora. [Stonewall Democrats has endorsed Mora.] Mora also attended the public forum in person.
Mora said, 
"We must support transgender students by making sure there are gender neutral restrooms at our schools. We have to avoid false and harmful myths about this issue, which of course are unacceptable. It is on us to build a culture of equity and inclusion that will truly keep students safe." 
Stonewall Democrats emphatically denounces Allen for using a transphobic myth. This is exactly the kind of rhetoric that has often been used to attack transgender people and access to resources based on their gender identity. They themselves are often portrayed by transphobic persons as unstable, predatory, and dangerous.
We call on Allen to retract her remark and commit to taking LGBT cultural competency training.
We also ask her to issue a clear statement: Does she support the transgender youth on our public school campuses who are seeking justifiable accommodations, yes or no?
As it stands, Allen's comment is utterly baseless in fact and ignores California law. It is a remark unbecoming for any candidate for public office, but especially for someone who is running for a seat on a school board.
Under California law, school students are permitted to use whichever restroom that they believe best corresponds to their gender identity. Moreover, all single capacity restrooms on each school campus must be gender neutral.
These basic accommodations are especially helpful for students who are questioning their gender or identify as nonbinary. Gender neutral restrooms also symbolically reassure trans youth that the school administration regards them in an inclusive manner.
LGBT youth are the victims of stigma, harassment, bullying and violence, based on their sexual/gender identities, on school campuses. They are not the perpetrators of violence against others, nor are policies designed to serve their basic human rights accidentally creating opportunities for others to commit sexual assaults against girls and women.
Of course, we ourselves uphold the principle that girls and women ought to be free from sexual assault and rape. We reject the idea, however, that restricting trans accommodations on school campuses does anything to advance that important objective. 
The candidate forum on Oct.12 was called the "Natomas USD Board Candidates Forum." It was sponsored by the high school students from Natomas Charter School, Westlake Charter, and "NP3": Natomas Pacific Pathways Prep., and it took place at Natomas Charter School's Benvenuti Performing Arts Center.
A high school student in attendance posed the question about restrooms in writing. They asked, "Are you in support of incorporating gender neutral restrooms and do you have a plan to help create gender neutral restrooms across the district?"
We gave Allen the opportunity to revisit her remarks, but she did not reply to us by the time this piece went to press on October 20.
____________________________
Update
Megan Allen provided this statement to Sacto Politico in response to our Guest Essay. In her statement, she does not deny having made the insulting transphobic remarks in the first place.
"I'm sensitive to the concerns that have been expressed [about my comments], but my comments are specifically about the safety of young women and how facilities can be exploited, by anyone, in a manner that does not promote safety. As a mother of two school-aged children, it's very important for this dialog to occur publicly and in a sincere and apolitical manner. I'm always willing to have this conversation and look forward to serving all Natomas students as a Board Member."
We regard this as a classic non-apology. This statement continues to establish Megan Allen as unfit for any public office. She is an especially unacceptable  candidate for a seat on a public school board.
Posted October 21, 2022.
——————————
Sacramento Region School Board Candidates Denounce Allen's Remarks
Zima Creason, San Juan USD: 
"Friends – It has come to my attention that a school board candidate in a neighboring district made incredibly hurtful and inaccurate comments regarding gender-neutral bathrooms asserting that there are reports of extreme violence against girls in these spaces. As school board members, it is our job to lead with integrity and to serve all students, including those that prefer gender-neutral bathrooms. This false claim is damaging, hurtful, and flat-out wrong. To our students that may have been impacted by these cruel words, I'm with you and I will always fight for you. You deserve a safe place to learn, you deserve respect, and you deserve gender-neutral bathrooms (it is the LAW by the way)! And voters, don't elect people that lie to you! It is a red flag and a behavior that will be repeated.  Don't be fooled. -Zima" 
Posted on the Creason Facebook page, 18 October 2022.
https://www.facebook.com/ZimaCreasonForSJUSD/
—————————————–
Anna Molander, Sacramento City School District: 
"I join our LGBTQ+ Democrats in denouncing Megan Allen, Natomas School Board candidate, for using transphobic and misogynistic tropes at a recent public forum. We need to create a safe space for all students on campus, that uses fact-based policy, not biased rumors and hateful tropes.
Below you will find the full statement from Stonewall Democrats of Sacramento regarding the recent comment made by Allen. They ask: " Do you support the trans youth on our public school campuses who are seeking justifiable accommodations, yes or no?""
Posted 19 October 2022, on the Molander Hermann Facebook page.
https://www.annafights4kids.com/in-the-news/stonewall-dems